Genie GS- 4047 Scissor lift reaches 1,000 unit production milestone
Grantham, UK – 30th October 2013 – Terex Aerial Work Platforms (AWP), a business segment of Terex Corporation (NYSE:TEX), is proud to announce that the company's Coventry-based production facility in England recently rolled out the 1,000th unit of its compact Genie© GS™-4047 self-propelled electric scissor lift model.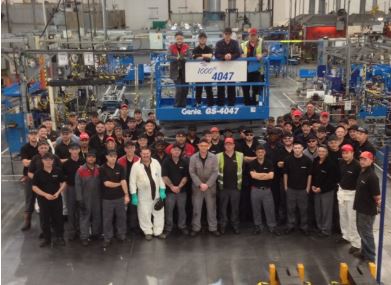 Designed and built in Europe, to suit the needs of European customers, the GS-4047 reaches a height of almost 14 metres and is the largest in the Genie© self-propelled slab scissor lift range produced in Coventry.
"The success of the GS-4047 self-propelled electric scissor lift is a perfect example of our company strategy based on paying attention to the market and creating products focused on customers' needs. Today, more than 40 percent of the equipment produced for our customers in Europe, the Middle East, Africa and Russia (EMEAR) is manufactured within the EMEAR region , and we plan to increase this number in the foreseeable future," says Joe George, Vice President and Managing Director EMEAR, Terex AWP. "Both designed and produced in Europe, for Europe, the GS-4047 scissor lift is a compact machine combining the benefits of increased working height with powerful lift capabilities for indoor applications in confined spaces. High demand from European customers for this particular model illustrates the success of our company's local market responsiveness and desire to produce quality products intended for customers across EMEAR."
The process began when Terex Construction and Terex AWP partnered in 2008, seeking to combine the advantages of greater operational efficiency from a single facility in the United Kingdom, with faster lead times to customers in the robust European market for aerial work platforms. The Coventry plant's production line was fully developed and tested at Terex AWP's main facility in Redmond, Washington before being implemented. The initial Genie© models to be produced at the plant were the popular Genie© mini electric GS™-1532 and GS™-1932 scissor lift models, also known as "slab scissors". Production of the GS™-4047 self-propelled electric scissor lift started at the plant in April 2012.
"Joining the resources of two business segments while utilizing the latest Terex Business System has worked extremely well. The Genie GS-4047 lift is a niche model, and reaching 1,000 units in less than eighteen months is a result that speaks for itself," says Neal Nowick, General Manager & Operations, Terex Compact UK, Coventry.
Since January this year, Terex AWP has integrated further changes into the products manufactured at the Coventry factory to include a new state-of-the-art paint process. While helping to increase machine life and making the popular Genie blue colour stay smarter for longer, the new environmentally-friendly paint process also provides the advantages of a fast custom paint service for customers who wish to utilize their own company colour specifications.
The Terex Coventry plant currently produces ten models of the Genie scissor lift range, including the Genie GS™-1530, -1532, -1930, -1932, -2032, -2046, -2632, -2646, -3246 and GS™-4047 electric scissor lift models.
About the Genie© GS™-4047 self-propelled electric scissor lift
Well-matched to provide the lifting height and power customers need to work efficiently in confined indoor jobsites, the compact and powerful Genie GS-4047 self-propelled electric scissor lift combines zero inside turning radius with the ability to lift up to 350 kg (770 lbs) to a maximum platform height of 11.75 m (40ft) in just 70 seconds . Offering 25 percent gradeability to access loading ramps easily, plus two lift and drive speeds, its Smartlink™ control system simplifies both operation and maintenance. Featuring the comfort of a 1.15 m (3ft 9in) wide platform and extendable deck from 2.26 to 3.18 m (7ft 5in to 10ft 5in), the GS-4047 self-propelled electric scissor lift provides sufficient workspace for up to three workers. Maximum drive speeds range from 3.1 km/h (1.9 mph) in stowed position, to 0.8 km/h (0.5 mph) in raised position.
About Terex
Terex Corporation is a diversified global manufacturer of a broad range of equipment that is focused on delivering reliable, customer-driven solutions for many applications, including the construction, infrastructure, quarrying, mining, shipping, transportation, refining, energy, utility and manufacturing industries. Terex reports in five business segments: Aerial Work Platforms; Construction; Cranes; Material Handling & Port Solutions; and Materials Processing. Terex offers financial products and services to assist in the acquisition of equipment through Terex Financial Services. More information can be found at www.terex.com